Drug-Impaired Driving Prevention Program
The FNCPA's Drug-impaired Prevention Program was developed to provide a First Nations specific toolkit including community engagement, information, and promotional materials to First Nations police services to increase awareness of drug-impaired driving issues and the legalization of cannabis in Canada.
The aim is to enhance awareness, provide key information, promote discussion, and encourage First Nations youth to make safe, healthy choices about driving and accepting rides. The materials use positive messaging and a matter-of-fact, culturally grounded approach to present information in ways that will appeal to First Nations youth, families, and communities.
All materials are available in both French and English.
For more information, contact:
First Nations Chiefs of Police Association
Tel: 204-856-5374
Fax: 204-856-5389
Email: [email protected]
Did Drugs? Don't Drive!
Community Engagement & Information
Did Drugs? Don't Drive! Posters
Intended for use by First Nations police services as part of their community engagement on the opioid crisis, the posters feature notable First Nations people, the program slogan, inspirational quotes by the person featured on the poster, and information about opioids. The posters, collector cards, and magnets form a set of material featuring world champion boxer Mary Spencer and professional basketball player Michael Linklater.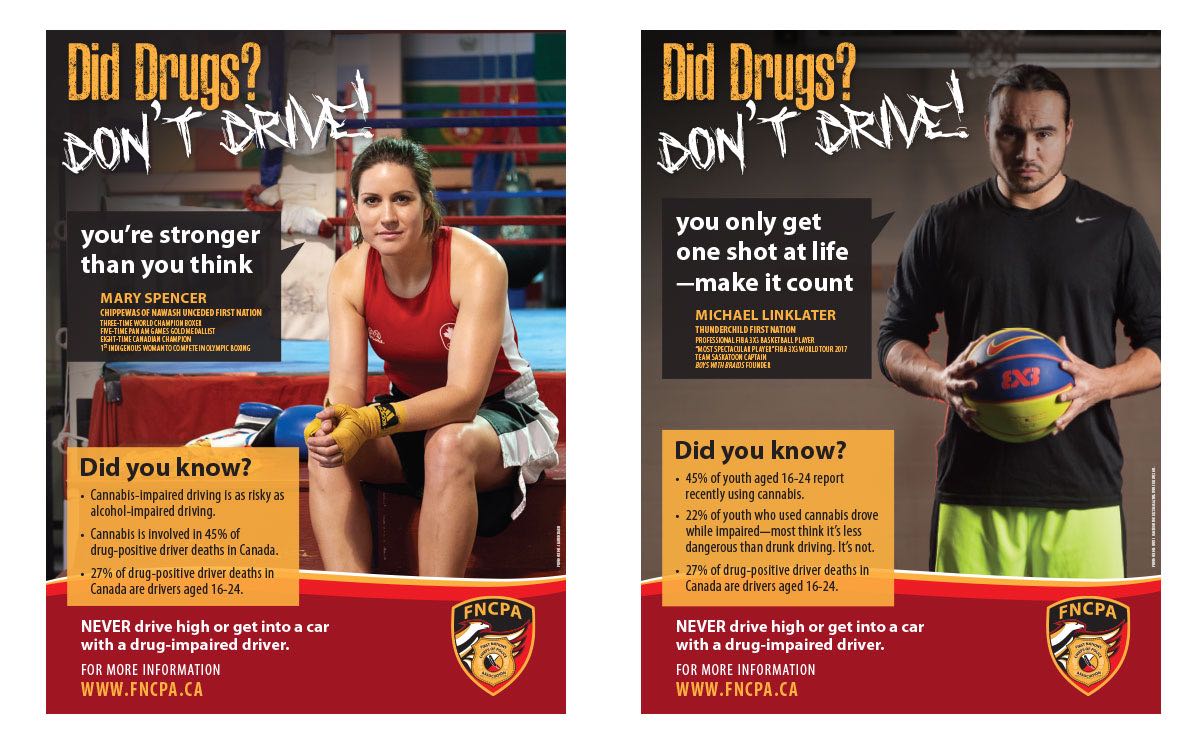 Powerpoint Presentation
Intended for use by First Nations police services as part of their community engagement on drug-impaired driving. The presentation provides an outline, basic information, photos, and Stick Person illustrations and animations that may be added to or modified for use with community groups of all ages.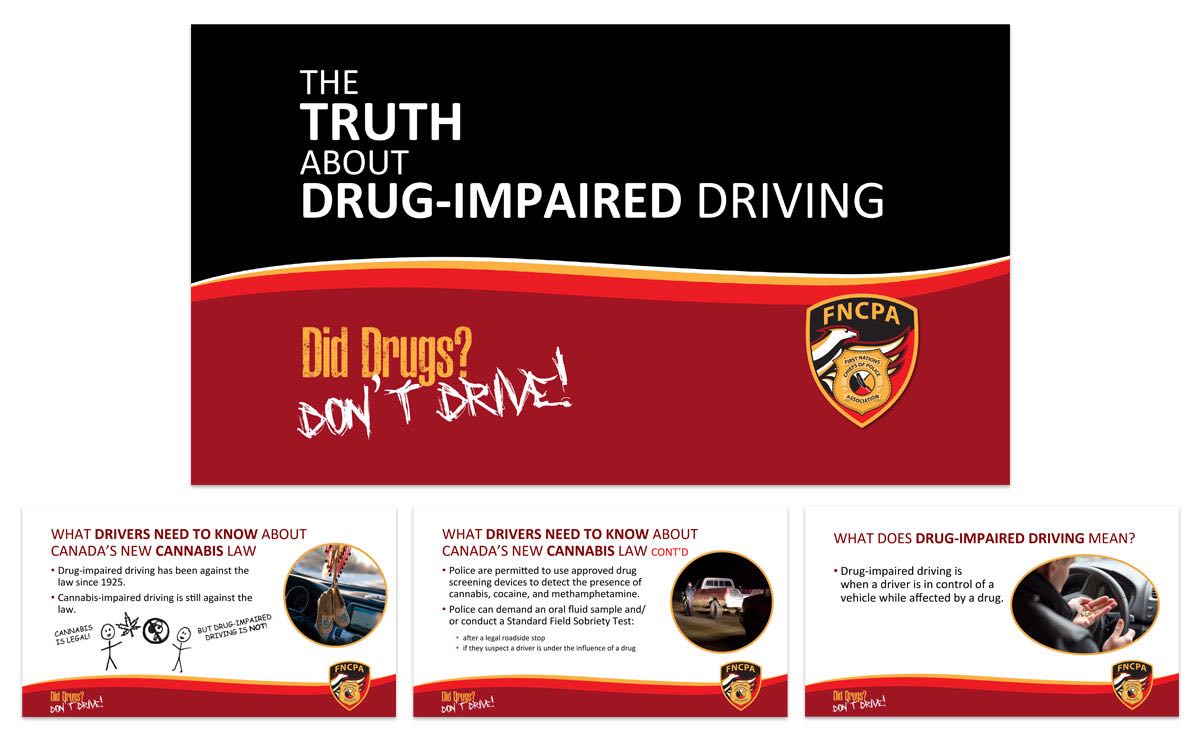 Use hammer to strike side windows. Strike windows HARD in CORNER to break glass.
Use the blade to cut seat belt. Pull seat belt taut. Firmly pull the blade across the seat belt.
Collector Cards
The cards feature Mary Spencer or Michael Linklater on one side and provide information on the other side.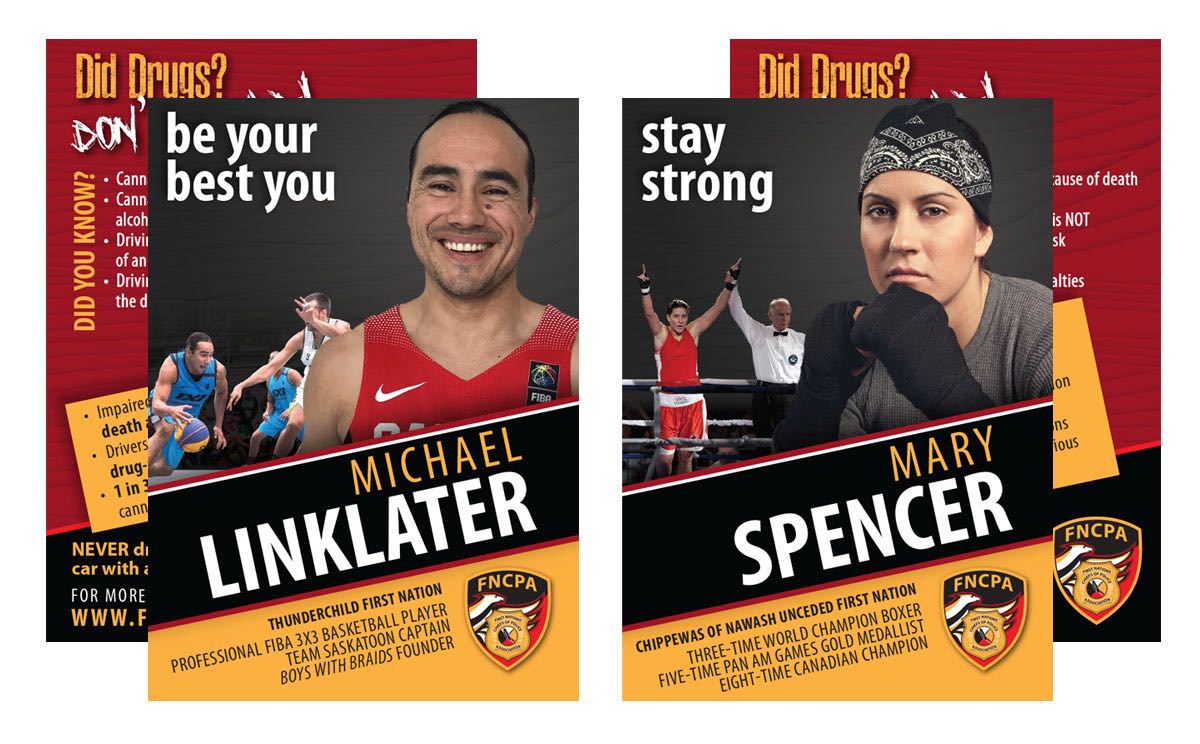 Promotional Items
The FNCPA has produced a range of materials featuring the FNCPA Drug-impaired Driving slogan to spread the word about the importance of making safe and healthy choices about drug use and driving.
These include:
Carabiners
Keychains
Magnets
Popsockets
Safety Hammers/Seatbelt Cutters