For more information, contact:
Karen Haines
Executive Administrative Assistant
First Nation Chiefs of Police Association
Tel: (204) 856-5370
Email: admin@fncpa.ca
Conferences
Assembly of First Nations
The FNCPA Executive attended the Assembly of First Nations (AFN) – Special Chiefs Assembly (SCA) in Winnipeg on December 9, 10 & 11, 2014, and provided an information booth for the assembly.
The purpose of the booth was to create awareness of FNCPA and information about First Nation Policing Services provided to communities. Below, we have pictured the FNCPA Executive at the AFN -SCA.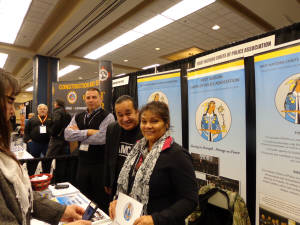 At their Annual General Meeting in Toronto October 17-18, 2017 the First Nations Chiefs of Police Association (FNCPA) unanimously passed a resolution calling on the Government of Canada and its Provincial partners "to entrench First Nations Policing as an essential service," provide adequate human resources, infrastructure, and operations and maintenance resources, and "sufficient, predictable and sustained funding that meets the unique needs of each department."
read more
Public Safety Minister Vic Toews announced that the Federal Government will maintain funding for policing agreements with First Nation and Inuit communities under the First Nations Policing Program (FNPP) for the next five years.
read more