For more information, contact:
Karen Haines
Executive Administrative Assistant
First Nation Chiefs of Police Association
Tel: (204) 856-5370
Email: [email protected]
Conferences
Assembly of First Nations
The FNCPA Executive attended the Assembly of First Nations (AFN) – Special Chiefs Assembly (SCA) in Winnipeg on December 9, 10 & 11, 2014, and provided an information booth for the assembly.
The purpose of the booth was to create awareness of FNCPA and information about First Nation Policing Services provided to communities. Below, we have pictured the FNCPA Executive at the AFN -SCA.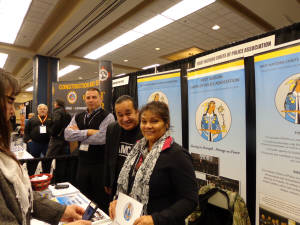 The First Nations Chiefs of Police Association (FNCPA) acknowledges each of the Missing and Murdered Indigenous Women, Girls and 2SLGBTQQIA people and their families, friends, and communities.
read more